Last time, GamesBetOnline looked at Overwatch, a team-based first person shooter that has been growing in player base, as well as in the prize pool offered by its professional competition, the Overwatch League. In this article, we'll introduce you to a 26-year old collectible card game that has recently made the shift into digital platforms and esports. In fact, they have set aside a $10-million prize pool for competitive play in 2019. Here's the lowdown on the most popular card game in the world, Magic: the Gathering.

Magic: the Gathering, known simply as MtG, was created by game designer and mathematics PhD Richard Garfield. It was released in 1993 by Wizards of the Coast (WotC), the company that also publishes Dungeons & Dragons. WotC is now a subsidiary of Hasbro, the makers of Transformers, G.I. Joe, My Little Pony, and other lines.

Here's an entertaining short documentary about the history of the game by Vice:

Introduction to Magic: the Gathering

While MtG has many variations in its rules, competitive play usually involves two players battling in a best-of-three match. The main objective of the game is to get your opponent from 20 life to zero. To do this, you build a 60 or 40-card deck out of the cards available to you in a given format or game mode.

Decks contain different types of cards, including creatures that can deal damage to your opponent and spells that either further your own game plan or disrupt your opponent's. The most important card type and the foundation of the game are Lands. You can play one Land per turn, with each one representing a "mana" or resource available to you.

For example, when you play your first Land on your first turn, you can only cast spells that cost one mana. Once you accumulate more lands on the battlefield, your options grow considerably, as does the power level of the cards you can play.

Much like real time strategy games like Starcraft, Decks can also employ different strategies. You can choose an aggressive deck that gets your opponent to zero life before they can mount a defense. You could also play for the long game, crushing your adversary under the heel of powerful, expensive cards.

WotC releases about four sets of cards each year, with each set containing new cards, themes, and strategies. The game's main format or mode, Standard, includes cards that have been released in the last two years. Other formats let you build decks out of cards that have been around since the birth of Magic.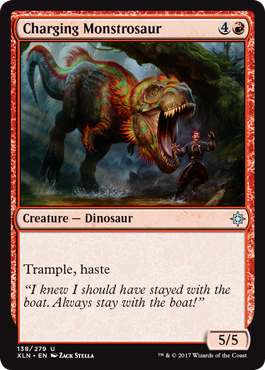 MtG started out by drawing inspiration from high fantasy genre works like Lord of the Rings for its card sets. Since its early days, however, the game has branched out in terms of inspiration. We've seen sets released that feature steampunk worlds, or Aztec-inspired empires that employ dinosaurs as weapons. The lore and art of Magic are huge parts of the game and are responsible for much of the success the game has achieved.

Competitive Magic: the Gathering

For much of its existence, MtG has maintained an active professional scene. WotC has held around four Pro Tours per year, invitation-only tournaments that represent the pinnacle of Magic competition. Additionally, there have been around 30 Grands Prix per year in recent years, which are open tournaments held around the world that award prize money and invitations to the Pro Tour.

Aside from prize money, competitors that performed well at these tournaments earned Pro Points. At the end of the year, the number of Pro Points earned would determine the benefits players received as a member of the Pro Club. The benefits scaled with different club tiers, Bronze, Silver, and Platinum. These benefits ranged from tournament invites to appearance fees and plane tickets.
However, starting in 2019, this premier play system has been overhauled completely. Magic: the Gathering is embracing the global popularity of esports. In our next article, we'll take a closer look at what WotC has in mind for competitive MtG's future.